Elaine Stritch! An iconic bridge from Detroit to Broadway and back again. Born in Detroit, Elaine lived in New York City for 71 years until her return to the city of Birmingham where she passed away in 2014 at the age of 89.
She was a "brilliant force of nature" and a "national treasure", fondly remembered for her dynamic cabaret performances in her black tights, floppy hat, and white shirt, belting Sondheim's "The Ladies Who Lunch" and other signature songs.
She appeared in numerous stage plays, musicals, feature films, and television series as well as receiving 4 Tony nominations and several Emmys. Her one-woman show, ELAINE STRITCH AT LIBERTY, won a Tony award for Best Special Theatrical Event. For many years she resided at the Carlyle Hotel in New York where she performed at the renowned Café Carlyle. Her continued presence was as well known as Eloise at the Plaza.
Loved by her fellow performers, her talent and spunk were memorialized by Broadway on her death when all theatre lights were dimmed in her honor.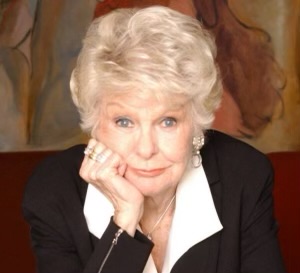 $5,000 annual gift payable at the commencement of each new Cabaret season (usually Sept.) commencing in the fall followed by the next two consecutive Cabaret seasons.
Elaine Stritch Society Benefits:
2 preferred seats at all Cabaret 313 performances each season
Invitation to the Cabaret 313 exclusive annual Summer Soirée
Prominent recognition on our website and printed materials
The opportunity to act as a Cabaret 313 Ambassador at our sponsored master classes
Please email our Executive Director, Sabrina Rosneck, at rosneck@art-ops.org or call us at 313-405-5061 with any questions you may have.